Fueled by our company's growth and expansion, Discovery Senior Living has marked the opening of its next corporate headquarters in Bonita Springs, Florida. The brand-new, 28,000-square-foot space is located at 3461 Bonita Bay Blvd., just about a block away from the former headquarters, which had housed our Executive Leadership, Finance, Accounting, Marketing, Sales, Operations, Human Resources, Construction, Design and other teams since 2017.
Custom buildout of the new headquarters began in April 2019, a process that aimed to bring to life the vision that company executives, in partnership with the in-house Design team, started conceptualizing many months before. Their collective goal was to create a comfortable and adequate space that would accommodate rapid, continued growth, better meet our organization's evolving needs, and support the rising workforce demands of a company at the forefront of one of the nation's fastest-growing industries.
The new space also allows for the integration of our Discovery At Home business unit, a move that ultimately wasn't possible given space constraints at the prior, 11,000-square-foot home base.
Inspired in part by contemporary headquarters from the tech sector and other, progressive industries, this new space is modern and amenity-rich, with a dedicated, Executive Suite, large, private work spaces and customized, high-tech settings for training, collaboration and virtual meetings with team members at the regional and community levels and an expansive team member lounge, complete with fun, engaging and relaxation amenity spaces.
"We went for a modern, high-impact aesthetic in this new space, with warm, welcoming colors in our entry and reception areas, and a fun, bright color palette in our team member lounge, training rooms and working areas," said Director of Interior Design Donna Boniello. "Just some signature features of this new setting include the beautiful, open lobby complete with a dramatic water feature and decorative live green walls; and a fabulous, team member lounge with massage chairs, available food and refreshments, a foosball table, electronic gaming and a quiet, outdoor patio area."
Although it opened amidst little fanfare because of COVID-19, our new corporate headquarters is worthy of a lot more hype and celebration, as it represents a meaningful milestone for our company, and one that all team members can be proud of.
"We've created a space that's befitting of a company at the forefront of the senior living industry," said CEO Richard Hutchinson. "And today, with our team steadily expanding as we continue working to design and deliver a best-in-class resident lifestyle consistent with our "Experiential Living" vision, it's both necessary and fitting that we have a bigger and better space from which to do it!"
See photos of our new, Discovery Senior Living corporate headquarters here:
Team Member Lounge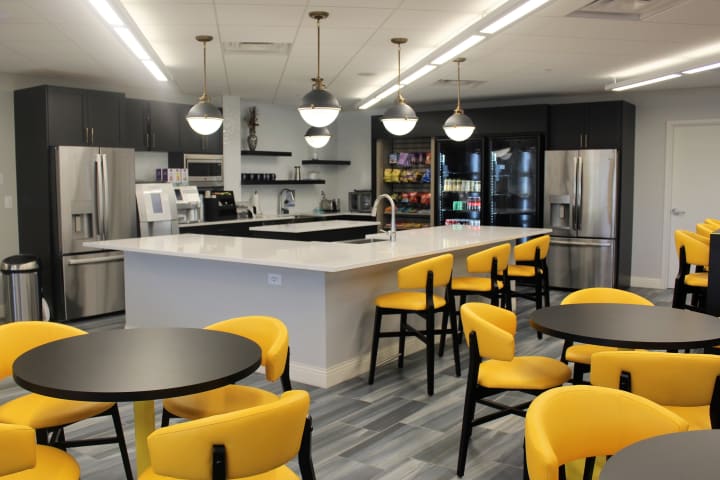 Pictured here: The new Team Member Lounge features bold styling and plentiful space for congregating among friends and fellow team members.
---
Boardroom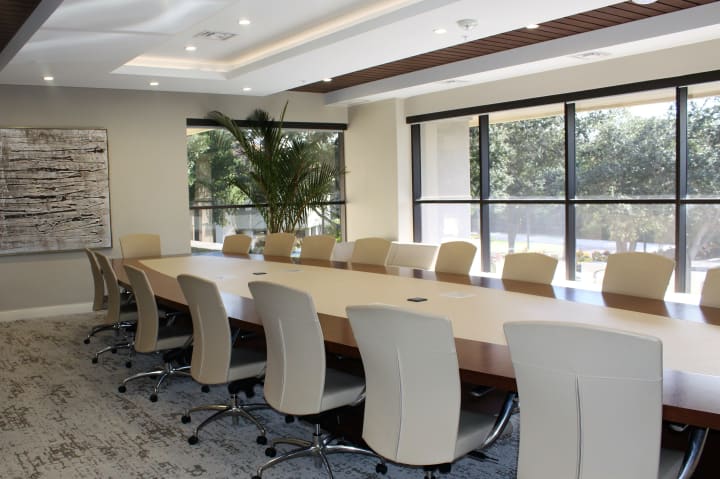 Pictured here: The boardroom at the new Discovery Senior Living corporate headquarters features luxurious appointments, the latest digital communication technology and natural light pouring in from the dramatic, floor-to-ceiling windows.
---
Lobby & Seating Area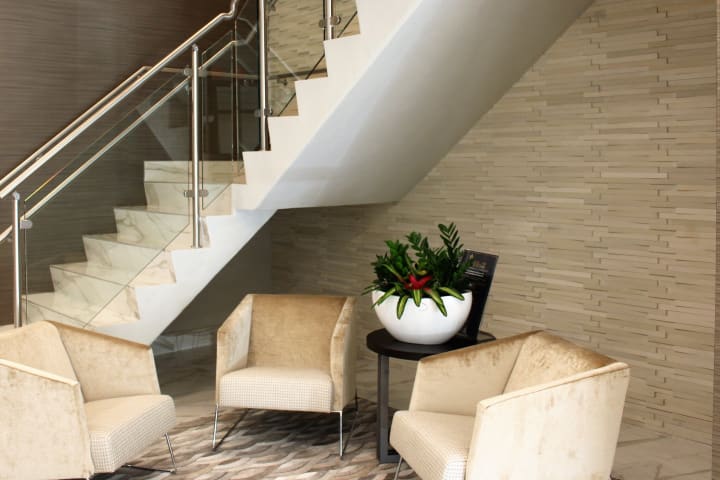 Pictured here: Cozy and casual seating areas throughout offer inviting places for guests and team members alike, making the new Discovery Senior Living corporate headquarters a warm and welcoming place to work and visit.