A Holistic Approach to Senior Living
We all want to live well and be well and at Discovery Senior Living communities, it is a pillar of our foundation. Every team members works in concert to create a tapestry of features and services that benefit all areas of our residents' lives, every day. Form the home office support teams who help design programs and source assets to the executive team and department directors who implement and manage the programs and services to the team members that execute them with residents, we all have the same goal in mind. Helping our residents to live healthier and happier, longer.
Our holistic approach to wellness is exclusive to Discovery Senior Living communities. Our Dimension Wellness program empowers each area and team member in our communities to think about how they impact our residents' lives.
Our culinary team focuses on ways they can make the Sensation Dining experience more meaningful. Our Executive Chef's may work with dietitians and other health resources to develop recipes that are both nutritionally sound for a senior as well as delicious to their taste buds. We source local, fresh ingredients when possible and build menus that are familiar and heartwarming. Our dining team serves our residents with full smiles and respect creating a family atmosphere and dining environment that are beloved as some of the most special times of each day.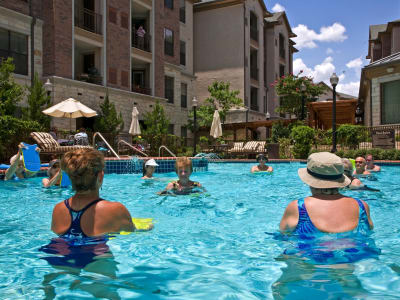 Our Programs
Our activities department focuses on ways they can make the Celebrations Activities program experience enriching for residents. They plan education activities that engage the mind, spiritual activities the engage the soul, fun events that engage the heart and physical activities that engage the body. No matter what your abilities, our activities team has something planned that you will enjoy getting involved in. Being social and engaged in life and with those around you had immediate health benefits and we aim to get you out and involved in something each day.
Our health and wellness teams focus on ways they can make our Dimension Wellness program have the most impact on residents' health. They create customized care plans to meet the individual needs of our residents while finding ways to maintain socialization with group programs. They build a network of support with doctors, nurses, therapists, trainers and more so they can resources at their fingertips to meet a resident's needs as they change. They provide a continuum of care as they are invested in providing the right level of support at each stage in our residents' lives.
Discovery At Home
One of the most important benefits to living at a Discovery Senior Living community is the availability of extended health, wellness and rehabilitation services offered all right on-site at the community, by our trusted team of partners and local service providers. Two of these partners are Discovery at Home and the Discovery At Home Wellness Network who provide compassionate skilled nursing care, Medicare certified home health care and private duty aide assistance to residents when they need it.
Residents recovering from an illness or injury may need services that in the past, would require them to be away from them homes, causing frustration, fear and worry. That is not the case when you live with us! Our Dimensions Wellness team can work with you and your family connecting you with trusted partners and local service providers that can perform extended services at our community. Some of these services include physical and occupational therapies, special disease management such as COPD, diabetes and wound care and other skilled nursing and home health aide services. You will even have access to private duty services and companion services if you need a little help with your daily routine to make living easier. For information on all the services available at your community, please ask a Senior Lifestyle Counselor.