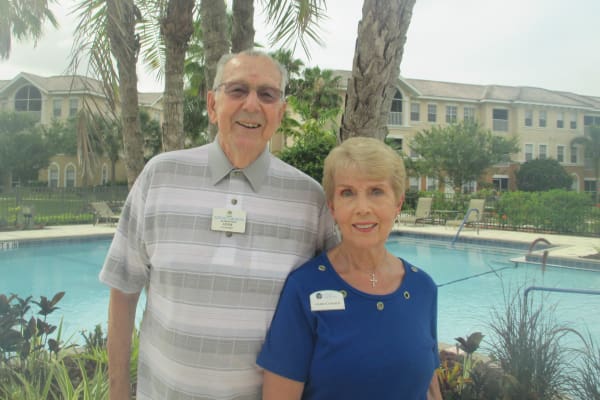 Jo Ann Schauber was an accountant during her working days which led to her being all business pretty much all the time.
"I was an accountant, I was inside four walls all day long," Schauber, 82, said of her working days. "We didn't do a lot of socializing and parties and such."
Take a look at her now.
About to enter her third year living at Aston Gardens at Pelican Pointe, Schauber is a wonderful hybrid of a force of nature and a social butterfly.
She calls bingo for other residents, she volunteers to help run events, participates in lounge games every afternoon, and starts off her day by fixing all the plantation shutters in the dining room so they are all evenly open and facing the same direction.
Perhaps even more importantly, she serves as an ambassador for new residents, giving them a taste of her sunny disposition as they make the transition to their new living arrangement.
"As an ambassador, I tell them right from the start: Keep an open mind, try some new things, be open to meeting other people," Schauber, who lives with her 84-year-old husband Adam, said. "People here want to be your best friend. There's so much here to offer someone. You're short-changing yourself if you don't take advantage of what all they can offer."
The Schaubers got to see first-hand what Aston Gardens had to offer immediately after commencing their move in 2013. Adam had recently suffered a stroke, which could have made the move difficult, not to mention the frequent trips to doctors and therapists that would come with his rehabilitation.
"The team helped us move in as he went through physical therapy, and they provided us assistance as he needed to be out and more active," Schauber said. "The medical director on site was critical for us; we were able to get the care we needed on-site rather than driving across town for it."
Growing up a little east of Cleveland, Ohio, Schauber worked with numbers while Adam dealt more with altimeters and control towers as a pilot for the United States Air Force.
They had already moved to Florida well before coming to Aston Gardens, living in homes, but in 2013 at ages 82 and 80, decided it was time to downsize to a retirement community.
"We started to look around at three locations and found that some of these required a high investment to buy even a studio-sized apartment," Schauber recalls. "At Aston Gardens, we got a nice, large two-bedroom apartment with a garage that was affordably priced to where we didn't even have to dip into our savings."
Once they were in, Schauber went to work on her ideas on what to do with the place.
Schauber said the move was a trial, but after about three months, they began feeling like they were at home.
"We got the place furnished and your life starts settling down, and a peace comes over you" she says. "You feel secure, you feel that every day is going to be a good day."
Schauber is a big fan of the special events that the staff of Aston Garden plans meticulously, including last fall's Halloween party that included a Patsy Cline impersonator, and an Italian night complete with Old World drinks and hors d'ouerves.
Schauber not only enjoys the events, she's played hostess a time or two. She took on the hostess role for a St. Patrick's Day event as well as one on Valentine's Day.
"They've allowed me to do a lot of things because of my capabilities, I'm physically active, and I exercise," Schauber said. "When you get older and you're more relaxed, you realize you're capable of things you never thought of. I love my age."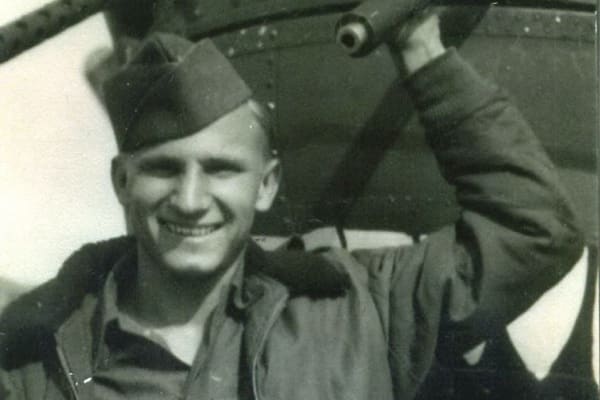 Born in Mississippi in the 1920s, 92-year-old Ben Hodges grew up in Memphis, Tennessee, but when he graduated high school there was really only one option to pursue ... his country had been brutally attacked months earlier at Pearl Harbor by the Japanese.
Between 1941-1945, 11.5 million American men were drafted into the United States Armed Forces to answer the call to face down the greatest threat the world had ever seen. Hodges was one of those men, eventually being stationed in Italy.
"I was the nose gunner on a B-24 bomber," Hodges, now a resident of Discovery's Conservatory at Keller Town Center in Texas. "We were stationed in Italy, but we were bombing all across Europe during the war. We had some pretty tough times, but I did make it back. The pilot I went over there with didn't make it back."
For the uninitiated, the Consolidated B-24 Liberator remains to this day the most-produced American military aircraft ever. Striking from Italy, the US rained hellfire down on the Allies' enemies with .50 caliber M2 Browning machine guns in addition to the aircraft's payload of 1,000-pound Azon guided bombs.
But for all of the harrowing escapes that Hodges and his fellow soldiers endured; for all the times he thought he might never get back to the ground safely, much less back to his home in Tennessee, he realized much later on what true fear was when his beloved wife began the fight of her life against cancer.
"My wife was sick for about two years before I moved down here. She had cancer and she had back problems," Hodges remembers with distinct emotional clarity. "When she passed, I lived by myself for about 1-1/2 years. I didn't like that. I can't cook and all that, and I really stopped enjoying my life."
 Hodges had lived in Memphis for more than 50 years. After he got out of the service following the culmination of World War II, he had gone to college at Mississippi State University, graduated, and worked briefly for a firm that built trailers before finding a home with Memphis' municipal natural gas company.
Working with natural gas in his hometown became Hodges' career, and he and his wife raised two children - a son and a daughter - as life carried on.
With no family left in Tennessee, Hodges finally began listening to his daughter, a resident of nearby Southlake, Texas, when she initiated talks with him about moving to the Lone Star State, specifically to the Conservatory at Keller Town Center.
It was pretty much a big adjustment, you're scaling way down.  It's a lot different, but it's not bad because you have a lot of people and great food," Hodges, who is about to celebrate his one-year anniversary as a resident, says.  "There's people from just about every state in the Union, so there's lots of friends and people you can talk to, and there's always something to do."
"I love that I don't have any major bills to worry about and I always have a place to eat. I used to play golf all the time in Memphis, and I'm planning on getting back out there when the weather cools off."
 
At age 92, Hodges is one of the only links enthusiasts around with a legitimate chance to shoot his age on any given 18 holes.
Family and freedom have always been mainstays in Hodges' life, and he's pleased to be able to enjoy both of them while calling Keller home.
"My daughter lives about two miles from where I live and I can go see her anytime I want," Hodges says. "You can do anything you want to just like at your home, go out, even get a job if you want, although that's not something I'm currently in the market for!"
Hodges doesn't let his advancing age have the slightest effect on how he lives his life. He uses the Conservatory's robust exercise area on a near-daily basis and heads for the gaming rooms when he needs to liven things up.
"A lot of people play cards, and I play a little bit, but my game is pool. I've made a good friend here from South Dakota, and we play pool a lot. It's a great way to relax and talk to other people, get to know them and learn about their lives."
And perhaps best of all for a man who thought his life had ended the day his wife passed away, there's the feeling of home and family, with his children, and two granddaughters - both students at Texas A&M University - able to visit any time they like.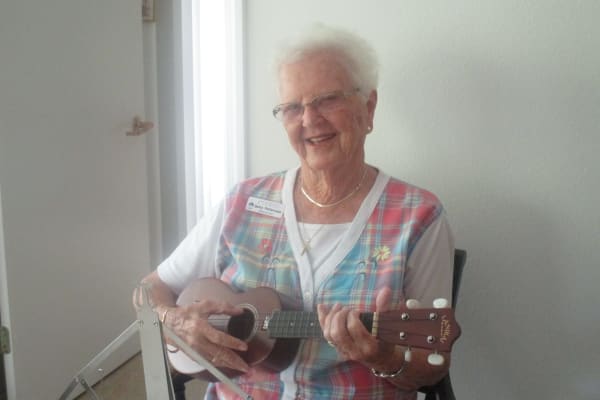 Eighty-four-year-old Betty Pettersson found a passion for talking to and caring about the needs of other people when she was just a girl growing up in Waterville, a town of 2,000 in upstate New York.
Of course, when you're the 11th of 12 children, there's no shortage of people around to talk to.
Betty found her calling in life early when she became a Catholic nun, serving at hospitals around the nation, including a five-year stretch at St. Francis' Hospital in Hawaii in the early days of the tropical paradise's statehood.
Once she returned to the mainland, she went back to school to get a Masters degree, and decided that this wasn't the only change she wanted to make in her life.
"At that time, lots of things were changing in the Catholic church, and some of us thought we could serve God just as well out in the world as we could in the convent," Betty, a 3-1/2 year resident of Aston Gardens at the Courtyards in Sun City Center, Florida, remembers.
"I became a nurse and I worked with people in both hospitals and hospices. I've enjoyed caring for older people and talking to them since I was a little girl."
She spent time in Memphis, Tennessee, and in Cleveland, Ohio, living with members of her family and helping people through some of the worst times of their lives. Along the way, she met an older gentleman who became her first husband, and spent 17 happy years with him.
Her dedication to helping others, particularly in life-and-death situations, allowed her to find love again, and to eventually make her way to Aston Gardens.
"I was volunteering on the emergency squad and my second husband was on the squad as well," Betty says. "He lost his wife and he asked me to help him put the mass together. A few months after that he asked me to come to dinner with him to say thank you, and the rest as they say, was history, we ended up being married for 16 years."
The pair moved to Sun City in 1978, and Betty became head nurse of the local hospital four years later in 1982. Thirty-three years later, she still volunteers in that same emergency department.
"I was the first head nurse in the ER, but eventually they switched to 12-hour shifts, and it was just too much time away from my husband," Betty said. "I volunteer there now and get the same satisfaction from helping people, from making them feel like someone cares about them and is looking out for them."
By 2012, Betty and Joe had retired and were living in a duplex less than a mile from Aston Gardens at the Courtyards.  Joe developed Alzheimer's disease, and that year the couple made the decision to move down the road to get him the care he both needed and deserved.
"We used to walk around the property for exercise before we moved here, and in warmer weather we'd walk through the building because it was air conditioned," Betty said. "Right from the beginning I knew we had made the right choice in coming here - the staff, the servers, the administration, they're all wonderful people. When Joe and I first moved in, sometimes he'd have an outburst in the dining facility, because of his disease, and the staff was always so kind and courteous to him."
Joe passed away in September, but Betty is very grateful for the time she had with him, and for the community that helps her stay strong, active, and happy on a daily basis.
"I already had friends here from the community, and I've made so many more," she said. "I walk a lot, and I like to visit the people in assisted living that I know from the community. I go down to the theater on trips to Sarasota for concerts, and I love to swim, we have a great pool here."
Although she'll be turning 85 in March, Betty is still very much a fan of talking and learning from her elders.
"I have some great role models. There is a 98-year-old lady here who goes to all the exercises classes, and accepts her limitations. I go four days a week."
In addition to enjoying the things she loved, Betty is also spending time learning a new thing or two at Aston Gardens.
"I had a friend who had Lou Gehrig's disease who had a ukulele in her home. Before she passed I asked her if she wanted to give it one of her grandchildren, and she said, 'No, you take it," Betty says. "So I'm learning to play it. I'm taking lessons in her memory, and I'm going to learn to play the Hawaiian song Mele Kalikimaka just in time for Christmas."
As true to her Catholic faith as ever, Betty has two sage pieces of advice for everyone she has the chance to talk to that have guided her through life so far.
Keep an attitude of gratitude and never look back, just keep moving forward.
Having lived 82 years in the City of Big Shoulders - Chicago, IL - Eleanor Holsinger knows a thing or two about carrying the weight of responsibility on her shoulders. That's why she was able to come to terms with moving into the assisted living floor at Discovery Village at Sarasota Bay; because it took that weight off the shoulders of the people she loves most.
When her husband died several years ago, her son and daughter thought she should move into an independent living facility, but she was fiercely committed to staying in her own home and being her own person.
"I looked at several facilities and I wasn't happy with any one of them," Holsinger recalls. "I was going to stay in my house, which I did for two years, but it started getting a little hard because I was walking with a walker and my balance started getting not so good."
The balance issue began affecting one her passions - cooking - as she could not use both hands in the kitchen, constantly needing one hand to hold her steady. It required a lot of assistance from her children for her to stay in the home they had grown up in, and she came to the realization that she was putting that undue weight on their shoulders.
"I decided it was time for me to move on to assisted living. It was very hard, but I made up my mind that my kids needed their lives. My son and my daughter-in-law down here, and I just wanted them to have their own lives again."
She mentioned her intention to her children and they restarted the process of looking for a perfect fit.
"While she was looking, my daughter heard about this place," Holsinger said. "There wasn't even one brick put up here yet, but when I heard about it, I said yes."
That 'place' was Discovery Village at Sarasota Bay, which features 126 residential supervised independent living, assisted living, and memory care apartment homes. With a staggering 120,000 square feet available, there's something for everyone including a theatre, salon, barber shop, library, fitness center, heated therapy pool, dining room, club room, and bistro.
"I'm very happy and satisfied. I have a beautiful courtyard view, and everybody on the staff is just wonderful, they treat you like a person, not a number," she says. "They have so many activities and sometimes I get so tired I can't go to all of them. But I try to keep myself busy and out of my apartment."
A little fatigue is understandable, considering Holsinger turns 94 in June. She recently celebrated a year at Sarasota Bay on its assisted living floor but remains fiercely independent on how much help she needs.
"I'm on the assisted living floor, but the only thing I really have that's assisted is someone sitting in my living room while I take a shower in case I fall," she says. "This place is very accommodating, there's no request, nothing that's too much for them."