About Discovery Senior Living
Founded by Thomas J. Harrison and Richard J. Hutchinson, Discovery Senior Living consists of a family of companies specializing in improving senior living services for America's aging population. With experience and a reputation that spans 25 years, as well as an award-winning team of experts at the helm, Discovery Senior Living develops and manages an array of senior living community brands across the Southeast United States.
The family of companies includes:  Discovery Management Group, Discovery Development Group, Discovery Realty Group, Discovery Marketing Group and Discovery At Home, a Medicare-certified home healthcare company.
Discovery Senior Living has built a portfolio of world-class senior living communities by blending the best practices of senior living with outstanding amenities, comprehensive wellness programs and technology. We understand the concerns and lifestyle needs of our senior population. That is why you will not find large up-front entrance fees or long-term commitments. We the ability to lock in your rent for three years at some communities with our 3-Year Rent Lock Protection plan so you can budget accordingly. Our dedicated team of caring health and wellness professionals, many of whom have worked with us for many years, ensure your needs are taken care of every day. That's because our focus on personalized care and attention is at the foundation of all we do.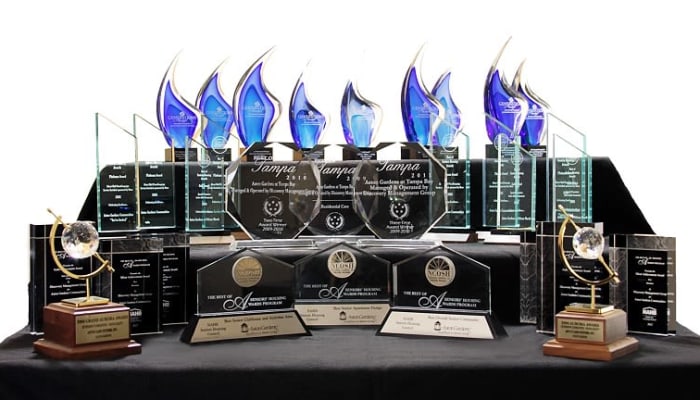 Discovery Senior Living has earned a number of prestigious regional, national and international awards, reinforcing just how unique our communities are, and how successful the company is in meeting the demands of today's mature adults.
NATIONAL ASSOCIATION OF HOME BUILDERS, SENIOR HOUSING COUNCIL
National Award Winner
Best Overall Senior Community
Best Clubhouse and Activities Area
Best Apartment Design
Best 50+ Assisted Living – On the Boards
NATIONAL ASSOCIATION OF HOME BUILDERS, SENIOR HOUSING COUNCIL
Best of Senior Marketing Awards
Two-time Platinum Award Winner for Best Direct Mail Campaigns
   Gold Award Winner for Best Marketing & Sales Event
Gold Award Winner for Best Event Promotion Campaign
Silver Award Winner for Best Brochure
Silver Award Winner for Best Direct Mail Piece & Campaign
SOUTHEAST BUILDERS CONFERENCE
Aurora Awards
Grand Aurora Award Winner for Best Overall Retirement Community
NATIONAL MATURE MEDIA
Marketing Awards – Multi-Year Winner
Best Magazine Publication
Best Newspaper Ad
Best Electronic Media
Best Direct Mail
Best Video Production
Best Ad Copy
Best Promotional Event
Best Community Brochure
Best Artistic Photography
Best Editorial Article
Best Logo Design
GENERATIONS AWARDS
Platinum Award Winner for Newspaper Advertising
Platinum Award Winner for Marketing Collateral & Branding
Platinum Award Winner for Copywriting News Release
Gold Award Winner for Newspaper Advertising
Gold Award Winner for Magazine Publication
Gold Award Winner for Ad Copy Writing
Gold Award Winner for Electronic Media
Gold Award Winner for Direct Mail Campaign