About Discovery Senior Living
Discovery Senior Living, a family of companies which includes: Discovery Management Group, Discovery Development Group, Discovery Realty Group, Discovery Marketing Group and Discovery At Home, a Medicare-certified home healthcare company. For more than 25 years, the award-winning management group has been developing, building, marketing and operating upscale, luxury senior-living communities across the United States. With a flourishing portfolio of more than 8,500 existing and under development homes for seniors, Discovery Senior Living has become a recognized industry leader in creating world-class resort-style communities.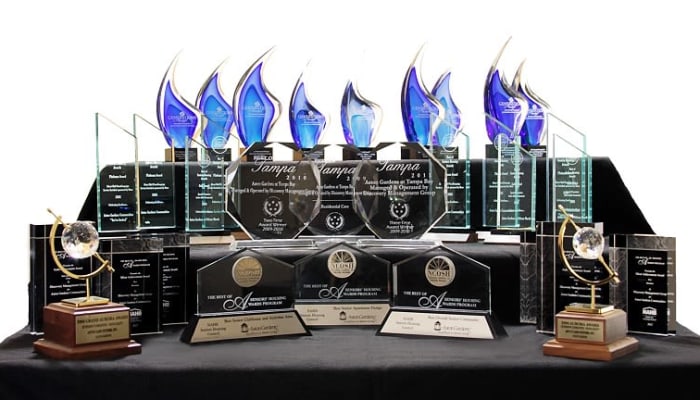 Discovery Senior Living has earned a number of prestigious regional, national and international awards, reinforcing just how unique our communities are, and how successful the company is in meeting the demands of today's mature adults.
NATIONAL ASSOCIATION OF HOME BUILDERS, SENIOR HOUSING COUNCIL
National Award Winner
Best Overall Senior Community
Best Clubhouse and Activities Area
Best Apartment Design
Best 50+ Assisted Living – On the Boards
NATIONAL ASSOCIATION OF HOME BUILDERS, SENIOR HOUSING COUNCIL
Best of Senior Marketing Awards
Two-time Platinum Award Winner for Best Direct Mail Campaigns
   Gold Award Winner for Best Marketing & Sales Event
Gold Award Winner for Best Event Promotion Campaign
Silver Award Winner for Best Brochure
Silver Award Winner for Best Direct Mail Piece & Campaign
SOUTHEAST BUILDERS CONFERENCE
Aurora Awards
Grand Aurora Award Winner for Best Overall Retirement Community
NATIONAL MATURE MEDIA
Marketing Awards – Multi-Year Winner
Best Magazine Publication
Best Newspaper Ad
Best Electronic Media
Best Direct Mail
Best Video Production
Best Ad Copy
Best Promotional Event
Best Community Brochure
Best Artistic Photography
Best Editorial Article
Best Logo Design
GENERATIONS AWARDS
Platinum Award Winner for Newspaper Advertising
Platinum Award Winner for Marketing Collateral & Branding
Platinum Award Winner for Copywriting News Release
Gold Award Winner for Newspaper Advertising
Gold Award Winner for Magazine Publication
Gold Award Winner for Ad Copy Writing
Gold Award Winner for Electronic Media
Gold Award Winner for Direct Mail Campaign